What's not to love about tender & juicy Filet Mignon (wrapped in Bacon no less) and topped with succulent Lobster?  This is a simple, elegant dinner.  Granted, we don't splurge on beef tenderloin and lobster every other day, but when you want to serve something impressive and delicious, you can't go wrong here.  This is my Go-To Valentines Day dinner.  Some say Surf n' Turf; I like to say "Beef & Bugs."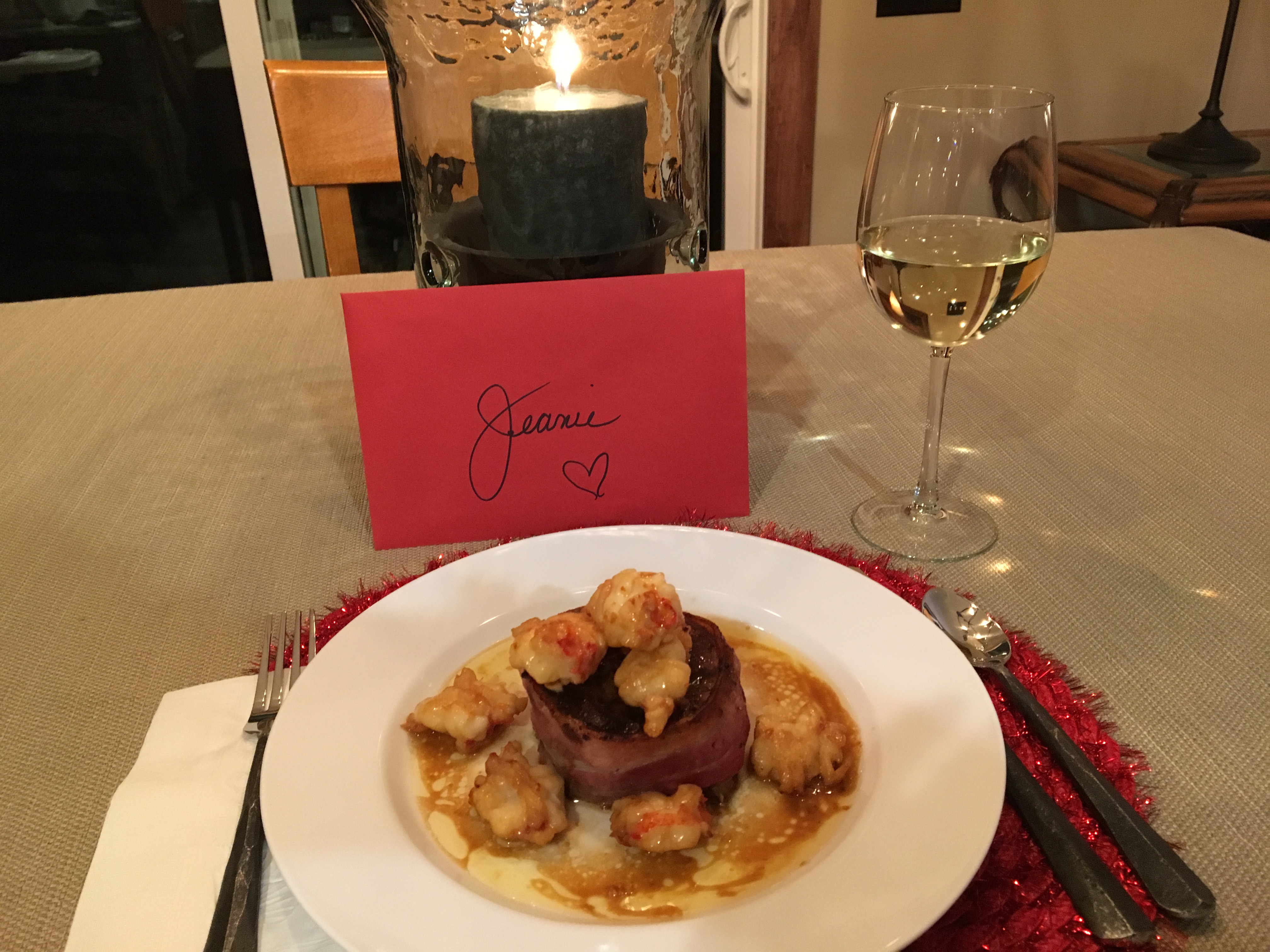 INGREDIENTS:
2  (8 ounce) filet mignon (beef tenderloin)
Salt and pepper to taste
1 clove garlic
2 slices of bacon
1/2 cup butter
1 teaspoon OLD BAY seasoning.  (I use Penzey's Chesapeake)
8 ounces lobster tail, cleaned & chopped
1/2 cup dry white wine
Set oven to broil.
season tenderloins on both sides with salt & pepper and wrap with bacon.  Secure with toothpick.  Place on broiler pan or cast iron skillet.  Broil for approximately 8 minutes, then flip to other side and go another 8 minutes.  (Ovens vary so I rely on an instant read thermometer.
I generally remove them at an internal temp of 110' and let them rest for a few minutes.
While tenderloins are cooking melt half of the butter in a skillet with the white wine and the OLD BAY.  Reduce until the butter turns a nutty brown.  Add the chopped lobster meat and sauté'.This will happen quickly. Add the remaining butter and chopped garlic for about 30 seconds or until all the butter has melted.
Plate the steaks, top with lobster meat and spoon brown butter sauce over the top.