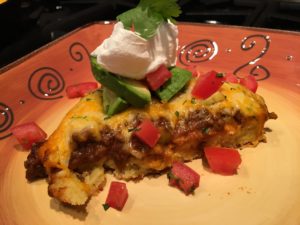 My Jeanie loves Tex-Mex.  She'd probably eat it everyday if I'd make it.  She texted the other day that she was on her way home and had a hankering for Southwest flavors.  I knew what that meant.  A 30 mile drive (each way) to her favorite Mexican restaurant.  I decided to check the fridge and the pantry and found a few things that might take care of her craving.  I had less than an hour and it only took 30 minutes to whip this together.  Great flavor came with layers of cornbread, seasoned ground beef and lots of cheese.  She loved it!  I am certain that this will join the regular rotation at our house.
Ingredients:
1 Lb ground beef
1 can enchilada sauce (10 oz)
1 small can diced green chilis
1 medium onion (diced)
2 cloves garlic minced
2 tsp cumin
1 tsp chili powder
1/2 tsp smoked paprika
1 1/2 tsp sugar
1 tsp salt
2 Tbs chopped cilantro (save a few leaves for garnish)
1 Lb cheese (grated) I used pepper jack
zest of 1 lime
1 avocado sliced
1 tomato diced
Method:
In a skillet, brown the beef in a little oil, add onion, garlic, green chilis, 1/2 of the enchilada sauce & seasonings.  Next, mix the cornbread using package directions.  add 1 egg, 1/3 cup milk & the creamed corn. Add 1 tsp salt and 1 1/2 tsp of sugar.  Mix well, let rest for 5 minutes. Grease cast iron skillet and get it smoking hot.  Add the batter.  You'll get a nice crust.  Remove from burner and put in a 400 degree oven for 20-25 minutes.  When a toothpick comes out clean, remove from oven.  Poke some holes in the cornbread and pour remaining enchilada sauce on top. Spoon ground beef mixture on top of the cornbread and enchilada sauce.  Top with shredded cheese and and lime zest, return to the oven for 15 minutes or until all the cheese has melted.  Let it rest for a few minutes before cutting. Top with sliced avocado and diced tomatoes. Garnish with cilantro leaves and sour cream.