My, it has been a long winter. I am proud to say that we are the first lakers to get our boat in the water this season. It was just delivered after months of storage. We bought it at the end of the summer last year even though our home wasn't finished until mid-October. We only got to enjoy her a few times before the leaves fell and the temperatures dropped. This is our third boat. The first was an old 60's Chrysler Bat Boat with fins. I called her "Show Prep" because that's what radio people do 24/7. Prep for your next show. Observe life, and share it with your audience. Eventually, the boys reached the age of tubing and water skiing, so we bought "Show Prep II" A slightly used 18 foot Four Wins ski boat. We had a lot of fun with that one, but unfortunately, my summer schedule was so hectic that we didn't get out on the water much and decided it was time to let her go. No point in letting her sit in the driveway.
Fast forward to 2017. I am finally old enough for a pontoon! I don't need to go fast anymore.
Jeanie loves to cruise and read in the sun. I love to cruise and WATCH her read in the sun!
With an electric motor, she doesn't make a sound. Now that I have retired, I named her
"Show's Over." I am so looking forward to this year's family time on the water. Did I mention it has two live wells, two coolers, and four fishing positions? The pan fishing is good, lots of bass, bluegills, and perch. There will be many shore lunches, a few beers and lots of sunscreen. This is why we moved to the lake. This is the perfect lifestyle for me at this point in my life. I always loved having hunting property and "The Tar-Paper Shack, " but I got to thinking, how many more years will I be able to drag a buck out of the woods or handle all the work that goes along with a property like that? Then I recalled having seen this property 4 or 5 years ago and deemed it too small for us at that time.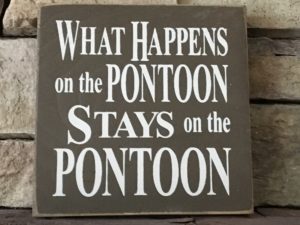 Now that it's just Jeanie & me, its perfect. Enough space to grow vegetables and herbs, enjoy the peace and quiet and above all…the nature, woods & lake. I intend to enjoy every minute of it and share the experience here. I'll show you my gardens and the food I make with those ingredients. I'll also share the music I enjoy listening too depending on my mood, my menu or the weather. There are bound to be some rainy days over the summer months, so I will even share the books I enjoy on those stormy days. Yep, the fireplace has been cleaned out; the winter recipes have been stowed and its time to get outside, light the grill (or fire-pit) and start enjoying a wonderful Michigan summer! Enjoy yours to the max, and please stay in touch.
Now, where are those weenie forks?