The greatest joy in my life is family. I am so proud of them all. They are all unique, interesting and talented in their way. My son Christopher, for example, can build absolutely anything. He didn't get that from me. The one thing he can't make is a plate of food. He doesn't have the cooking bug, but then again he doesn't need it. His wife Vanessa is a flat out amazing cook, pastry chef, and chocolatier. She happens to be in Italy with their two sons (Mason & William) visiting her parents. Christopher was so busy with projects at work that he couldn't join them on this trip. Naturally, I was concerned about him because he gets so engrossed in his work that he either forgets to eat, or he'll have a bowl of Honeycomb cereal for dinner. I promised Vanessa that I would feed him while she was gone. He misses his family so much that I had him come over after work for some Italian Food. I made Creamy Tuscan Garlic Chicken. I'll share the recipe below.
As we were having dinner, I asked him to tell me the story of how they met. He was in the Navy, stationed in Italy at the time. He was determined to learn to speak Italian so he got a translation dictionary and whenever he had free time, he would simply mingle with the locals and try to pick up as many words and phrases as he could. He found the people very warm and friendly as well as eager to help him learn their language. One evening, some folks invited him out for the evening and said they were going to a special place. It was a long drive. When they arrived, he found himself in a large courtyard overlooking the ocean. It was well lit, the music was jamming, and there were food and beverage everywhere. I imagine it as a large open-air discotheque.
As Christopher mingled and tried to make new friends, he spotted a girl. Their eyes met.
He couldn't stop looking at her. A short time later, a young lady approached him. She was Dutch but could speak English very well. She said, "My friend would like to meet you." She led him across the premises and introduced him to none other than the girl he had locked eyes with. Vanessa Metalli. She spoke no English. He spoke no Italian. It mattered little.
They have been together ever since. That was 19 years ago. Christopher now speaks fluent Italian and Vanessa speaks flawless English with a charming Italian accent. They have two beautiful boys, and her parents (Georgio & Lena Metalli) are wonderful people. They are retired now but ran a restaurant. They are amazing cooks as well and cook side by side every day. I am so glad that my grandsons have had the opportunity to build a strong relationship with them because they live so far away.
Anyway, this is what I made my lonely love sick son in his wife's absence.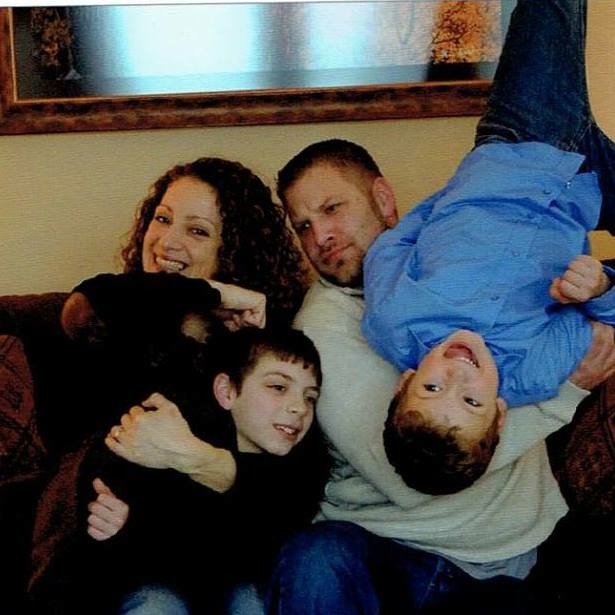 INGREDIENTS:
1 1/2 pounds boneless skinless chicken breasts
2 Tablespoons olive oil
1 cup heavy cream
1 cup chicken broth
8 ounces cremini mushrooms sliced or quartered
3 cloves of garlic minced (2 if large)
1 1/2 teaspoons Italian seasoning
1 cup spinach
1/2 cup fresh basil leaves
1/2 cup sun-dried tomatoes
1/2 cup freshly grated Parmigiana
salt & pepper to taste
In a large skillet, get the olive oil hot and cook the chicken on medium high heat for 3 to 5 minutes on each side to get a nice brown crust and no longer pink in the center. Move chicken to a plate and set aside.
Saute' mushrooms in a small a small amount of oil & butter. When nearly done, add garlic and sauce' for an additional 30 seconds. Remove to plate with chicken. Add the chicken brother and scrape up any brown bits left by the chicken. Add the heavy cream. Wisk over medium high heat until it starts to thicken.
Add the sun-dried tomatoes, Italian seasoning, spinach, and basil.
When the greens begin to wilt, add the chicken & mushrooms back into the sauce to reheat.
I served this over Linguini cooked to package directions then gave it a shower of freshly grated parmesan and a rustic loaf of artisan Italian sourdough bread. Delicious.